There is truly no place like home, and our goal is to help keep you there.
AllCare Living Services, Inc., is a private duty, in-home care agency that has proudly provided top-notch home care services in Charleston, South Carolina as well as throughout the beautiful Lowcountry of the Palmetto State since 1998. AllCare has been voted as the number one in-home care company by the readers of the Summerville Journal Scene.
Quality Care For A Better Life
AllCare's in-home care includes Alzheimer's and dementia care, personal care assistance, medication monitoring and management, companionship and emotional support, meal planning, meal preparation, light housekeeping, transportation for appointments, shopping, and errands.
If you suffer from dementia, a chronic illness such as C.O.P.D., neuropathy, or congestive heart failure, or you are a survivor of a stroke and need assistance with daily activities, then we are the company for you.
Family-Owned, Family-Run, Family Feel
AllCare is owned and operated by a local Lowcountry family, and the way we see it, the individuals we care for are part of that family- and we treat them as such. Our team provides exceptional care and companionship for individuals throughout Charleston and the surrounding areas. In addition to the top-notch care we offer, all of our services are supervised by a registered nurse, and we are 100% licensed and bonded! We have implemented a team-oriented approach which ensures that we provide personalized comprehensive in-home care services for all of our clients.
Our care is for individuals with mental or physical limitations, suffering from chronic illnesses such as COPD, neuropathy, CHF, stroke, ALS, PTSD, or suffering from dementia, and we are fully equipped to meet your short-term or long-term needs. Our services are available for a few hours a day or 24 hours a day, seven days a week- whenever you may need them.
Our in-home care services allow you to maintain an active, independent lifestyle in the comfort and familiarity of your own home. We are committed to our mission and are very active in organizations, both locally and nationally, that promote the well-being of seniors.
Allcare helped us care for my my mother and father in law. They were extremely accommodating along the way as we experienced emergencies and situational changes almost weekly. Their focus was always to take care of the patient first and we were very grateful for their willingness and ability to flex and help when needed. Thank you!
Christine called me about 11:00 am and said the ambulance was on the way. I asked what was going on and she said dad started having chest pains and took two nitro tables which did nothing. She acted quickly to get emergency help to the house and worked to keep him calm and stable. Probably saved his life with her quick actions. She then took care of picking up one of our dogs at the groomer and stayed at the house until I returned. She was a Godsend, a very sweet person who truly cares for and loves dad and would do anything to help him and us in a time of need. Thank you so much AllCare for the people that you hire and the way they care for other human beings that need your services.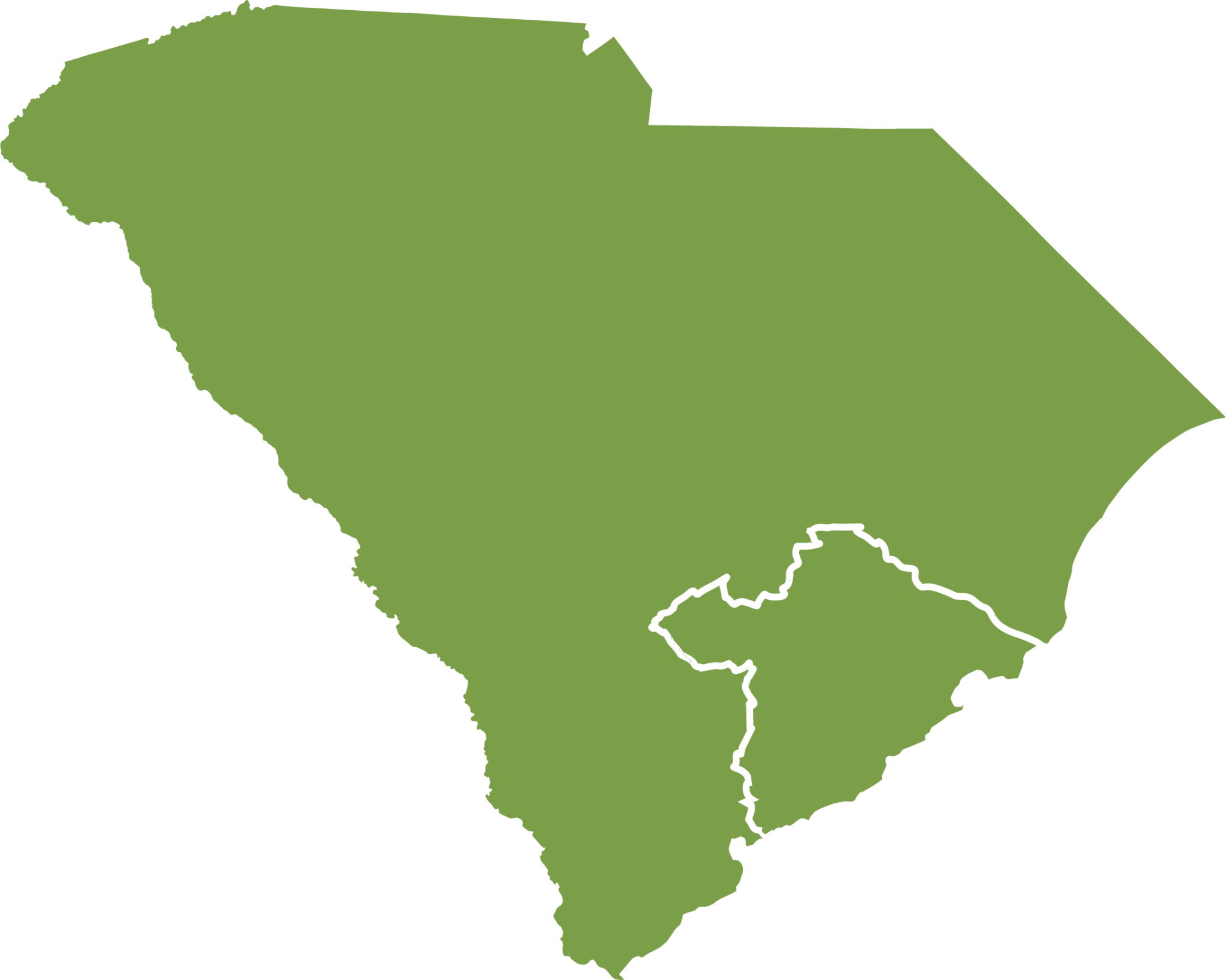 Serving the South Carolina Tri-County Area
AllCare Living Services proudly provides our award-winning services for seniors throughout the Charleston area and the Lowcountry. To view the complete list of communities we serve, please visit our Service Area page.
We excel in senior care, dementia care, Alzheimer's care, and home care services in Charleston, SC, and throughout Summerville, Mt. Pleasant, Moncks Corner, Goose Creek, James Island, Johns Island, Folly Beach, and Isle of Palms. Our caregivers cover the entire Lowcountry. When your loved one needs help with daily activities, our team is always here to help.
To learn more about each of the services we provide, please click on them below:
Alzheimer's and Dementia Care
Alzheimer's, and dementia in general, can slowly cause a person to lose his or her ability to perform daily activities. Our team at AllCare is here to assist with that and provide the care that you or your loved one needs.
Our personal care services are tailored to your particular needs. We want to ensure that you and your loved ones are able to carry on their usual lifestyles in the comfort of your own home, and our qualified and compassionate team of professionals is here to help make sure that happens.
Attempting to stay on top of a medication routine can be difficult, especially when there are multiple medications to keep track of. Our team of caring professionals can help you or your loved one manage this routine, and ensure that you are able to live your best life.
There's a great big world waiting beyond the confines of one's home, and seniors love to access it as much as anybody else. This is why AllCare Living Services proudly offers transportation services around the Charleston area. If you or a loved one requires transportation to and from an appointment or activity, our concierge service might be perfect for you.